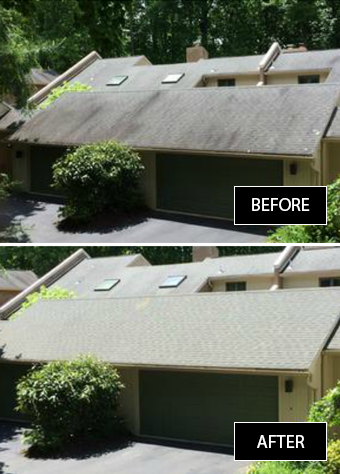 Using pressure to clean your exterior surface can be dangerous especially to Dyvit, Stucco, EIFS and other similar exterior building surfaces. Using pressure can easily damage these surfaces beyond repair. In addition, using pressure does very little by way of cleaning. In a short amount of time any dirt, grime, algae or mold will be present again. We have the tools to take on any project big or small.
Some of the surfaces we clean include:
Restaurants, Banks and Churches
Retail Store Fronts and facades
Apartments & Condo
Government and Public Safety buildings
Metal Roof Washing
Our effective soft wash process is developed through years of research and development of the Roof Cleaners Institute of America and approved by the Asphalt Roofing Manufactures Association. It is a long term solution to restore your roofs beauty and we warrant it for your peace of mind.
We always use a chemical only cleaning process for your roof. We never use any form of equipment that involves high pressure. The use of high pressure will not only damage your roof but it will also void any existing warranty that your roofing materials may have.
Most roofing manufactures including ARMA (asphalt roofing manufacturing association) recommend having your roof cleaned by a system to clean and treat every roof surface. The use of a non pressure system does not do any damage to the surface.
Rafferty employees have been properly trained to clean your exterior surfaces. Satisfaction is guaranteed.
Call us at (610) 626-9141 or contact us for more information.